Anti corrosion tape similar with Denso Petrolatum tape
Product Description
Anti Corrosion Tape similar with Denso Petrolatum Tape
I. Description: 
A cold applied tape whick remains plastic over a wide temperature range .It is non-hardening and non-cracking .It is highly resistant to mineral acids,alkalis,salts and micro-organisms and highly impermeable to water,water vapour and gased.Used for the protection of buried or exposed pipes,rods, cable,valves and metal fittings from corrosion.
II.Composition:
 Non-woven snthetic fibre fabric impregnated and coated with a neutral compound based on saturated petroleum hydrocarbons(Petrolatum) and inert siliceous fillers.It is supplied in rolls in a range of widths.
III.Accessory Products:
Petrolatum primer is a tacky Adhesive primer for use with petrolatum tape particularly where these are applied longitudinally or on flat areas. It is a component of the Xunda Coating System.
High melting point petrolatum in hydrocarbon solven .The petrolatum primer is a semi solid paste for brush application.
2. Petrolatum Mastic
Petrolatum mastic is a cold applied self supporting mastic for sealing ,filling and caulking applications where a protective ,waterproof and non-setting mastic is required .Suitable for application in a wide range of climatic conditions,It is spcially recommended for duct sealing and around pipes and cables where they enter buildings to prevent the passgae of water or gas. It is used for moulding around irregular profiles such as flanges ,mechanical joints and valves to provide a contour suitable for wrapping with anti-Corrosion Tape e.g. XUNDA tape. Petrolatum compound containing inert siliceous fillers and vegetable fibres.It contain no volatile organic solvents.
V. Technical Data 
Petroleum tape
PROPERTIES
DATA
TEST METHOS
 Color

 Yellow, Brown

 /

 Thickness

 1.2mm

   ASTM D1000

 Width

 100mm,150mm,200mm

   ASTM D1000

 Length

 10m

   ASTM D1000

 Weight
 1.5kg/m2

 /

 Breaking Strength

 40N/cm

   ASTM D1000

 Elongation at Break

                         20%

               ASTM D1000

 Breakdown Voltage(55% overlap)

 16kv

 /

 Resistance to 10% hydrochloric acid

  (immerged for 7 days)

   Excellent

 /

Resistance to 20% sodium chloride

  (immerged for 7 days)

   Excellent

 /

Resistance to 10% potassium chloride

(immerged for 7 days)

 Excellent

 /

Temperature Range

              Application

              Service

        -30℃ - 70 ℃

         -5 ℃- 45 ℃

 /
 Recommended Petrolatum Mastic:
PROPERTIES
DATA
 Color

 Yellow,Brown

 Specific Gravity

 1.39

 Flash Point

≥180℃

Temperature Range

          Application

          Service

 

0℃ -70℃

90℃ maximum
Recommended Petrolatum Primer:
PROPERTIES
DATA
 Specific Gravity

 0.91

 Solids Content

 70%

 Flash Point

 ≥32℃

 Covering Capacity

 5m2 /Liter

 Wet Film Thickness

                          200 micron

 Dry Film Thickness

 140micron

 Dry Time

 60 mins

 Temperature Range

               Application

               Service

 

0℃ -50℃

≥90℃ 
Xunda Pipe Coating Materials Co.,Ltd , the manufacturer of Corrosion Protection coating materials , construction waterproof and sealing coating materials.
Our services : Underground, underwater and aboveground oil , gas , water and petrochemical pipelines transport system corrosion and mechanical protection,Construction building roof , bathroom ,kitchen waterproof,bridge concrete waterproof and sealing,Pipeline insulation and UV resistance,shipbuilding and oil,water tanks waterproof and corrosion prevention.
Our advantage:we have the advanced production technology, Scientific management method, First-class R & D team, Perfect after sales service system . We have passed the SGS , DVGW, AWWA test and ISO9001, ISO14001, ISO18001, Bureau Veritas certification. We are the Audited Suppliers of SINOPEC, CNOOC, CNPC. We established from 1998 and growing up to the largest pipeline anti-corrosion tape manufacturer in China since 2013 .
Our market : including more than 70 countries, widely distributed in South Asia, Southeast Asia, Central Asia, West Asia, the Middle East, Africa, Europe, Eastern Europe, South America, Australia.
Xunda will continue pursuing world leadership for innovative, cost-effective, and environmentally corrosion prevention , waterproof and sealing solution.

Petrolatum tape exporting carton box:
Tape Thickness

Tape Size
Carton Size
SQM/CTN(m²)
Quantity/CTN

  1.20mm    

 1.20mm*200mm*30m
 510cm*260cm*215cm

12

2

 1.20mm*150mm*30m
 510cm*260cm*320cm

18

4

 1.20mm*100mm*30m
 510cm*260cm*320cm

 18

6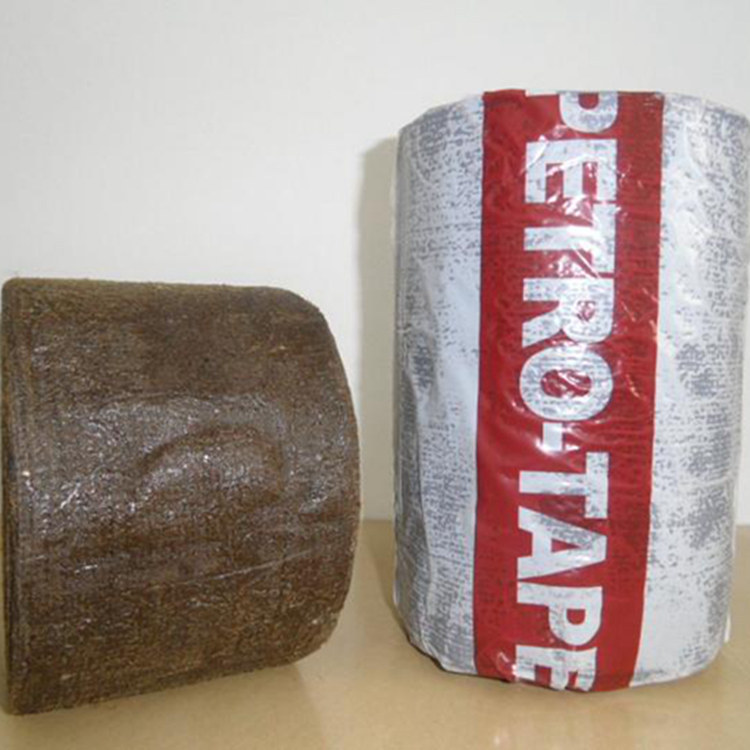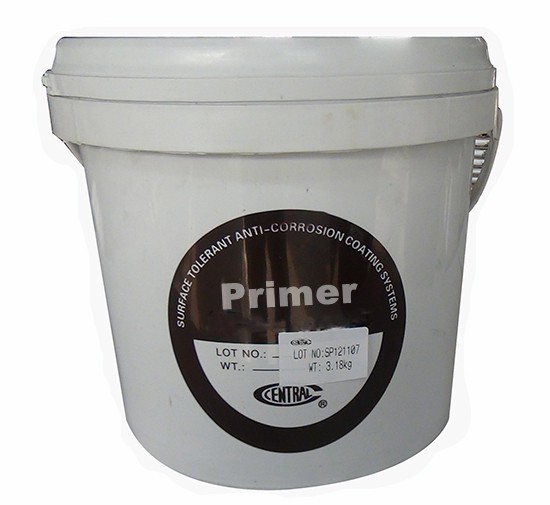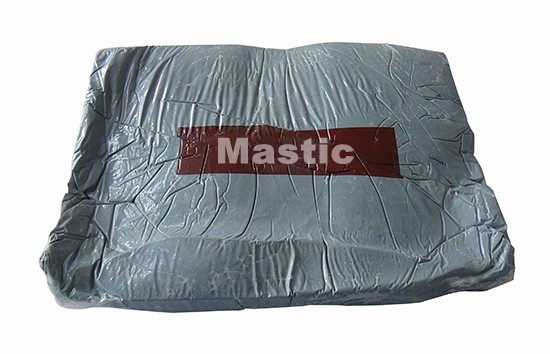 Shipping :   
Container Specification :
Container Specification
Length*Width*High(m)
Weight (Ton)
Volume (m²)

20GP

Inside:    5.898×2.352×2.385

Outside:  6.058×2.438×2.591

17

25

40GP

 Inside:    12.032×2.352×2.385

 Outside:  12.192×2.438×2.591

22

54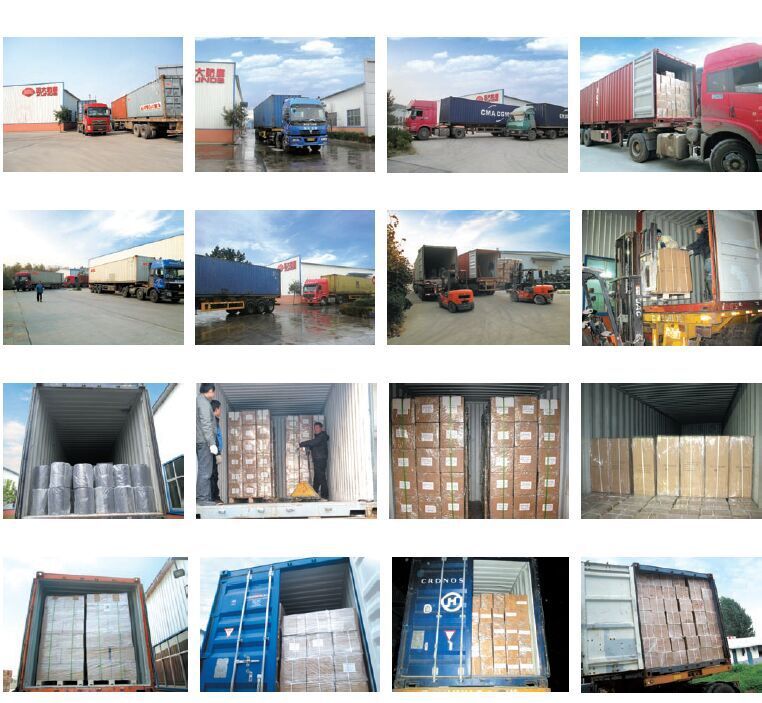 - 15  years of  pipeline  coating experience
- Global presence in oil, gas and water industries
-  Innovative coatings, high temperature systems and niche coatings with first quality 
    products
-  Multiple coating systems to meet end-user applications and requirements
-  ISO,AWWA,DVGW,SGS approved manufacturing protocol
-  Technology/R&D programs for new products and new processes
-  Proven long-term performance and corrosion protection on operating pipelines
-  Easy of application, consistent application and lower costs
- Compatible with traditional and current corrosion coatings
- Just-in-Time delivery on a global basis
- Achieving and exceeding Client requirements for products, packaging and shipment 
   expectations
- Meetings all International and In-Country transportation requirements
-  Providing OEM, OBM, ODM
- Oil, Gas and Water Transmission pipeline market
- Oil and Gas distribution and utility markets
- New pipeline construction markets
- Offshore Industry
- Manufacture of conventional and specialty Polyethylene, Polypropylene and Polymeric Alloys and coating 
  systems for pipe corrosion protection.
- Manufactures PE coatings systems for applications for New Pipe Construction and Rehabilitation and
  Reconditioning
- Approved to ISO 9001 and to other good manufacturing and technical standards and norms governed 
  within the energy and pipeline industry.
 1.  What is the payment terms. 
       T/T (Telegraphic Transfer) ,  L/C at sight,Western Union
 2. What is the delivery time of the tape.
       Usually , 7 days after payment, but  it will cost more time when a large order  made.
 3. Whether the sample is free or not.
      The sample will be free with one patch or a small roll . It should paid when you ask for large quantity samples.
 4.What is your qualification.
    We are the manufacturer of anticorrosion tape for 18 years. All our products are ISO,DVGW,  SGS,
     AWWA approved.we are the membership supplier of SINOPEC, CNOOC ,CNPC. Our products had
     exported to more than 80 countries.
 5. What is your after-sales service.
     1). Quality reponse
     2). Providing technical proposanl and feld application  training
     3).Product replacement if it is the quality problem.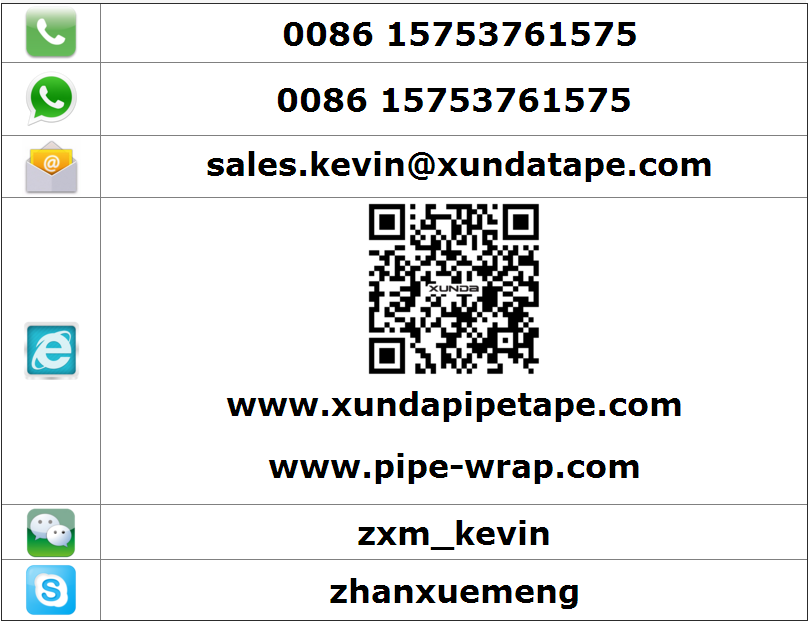 Contact us if you need more details on Petrolatum Tape. We are ready to answer your questions on packaging, logistics, certification or any other aspects about Grease Fiber Tape、
Marine Tape
. If these products fail to match your need, please contact us and we would like to provide relevant information.
Product Categories : Petrolatum Pipe Coating > Petrolatum Tape