20mil similar Polyken outer wrapping tape for underground pipeline
Product Description
 20mil similar Polyken outer wrapping tape for underground pipeline
The XUNDAT200 series is Cold applied tape coating system for corrosion protection of Oil, Gas, 
Petrochemical, and Waste Water underground or overhead pipelines. 
The outer layer tape backing shall be compounded so that it will be resistance to outdoor weathering.
The outer-layer tape shall be applied after the inner-layer tape by hand or with a wrapping machine.
Outer wrap tape also be called outer layer protection tape,Pipe Wrap Tape, polyethylene Adhesive tape.
Outer wrap tape T200 is engineered to achieve a complete bond to the inner layer tape, providing maximum handling and in-service protection for the Coating System.
Outer wrap tape T200 series is Cold applied tape coating system for Corrosion Protection of Oil, Gas, Petrochemical,and Waste Water pipeline. Pipe can be buried, underground ,overhead ,onshore and offshore .
 The specification of the tape consists of two layers, adhesive layer and film backing
Adhesive: butyl rubber 
Film backingr: Special blend of stabilized polyethylene

Excellent adhesion to inner-layer tape and self
Resistant to UV
Can be applied over a wide temperature range
Good conformability and consistent uniform thickness
Easily applied with no special equipment
Compatible with common pipe coatings
Excellent resistance to cathodic disbonding
Meets ASTM D 1000 Standard
Cold applied
Outer tape  XUNDA-T200 Series
Item

T 250

T 265

T 280

Total thickness

0.51 mm

0.65 mm

0.80 mm

Film

0.38 mm

0.51 mm

0.63 mm

Adhesive

0.13 mm

0.14 mm

0.17 mm

Elongation at Break

³ 400%

Tensile Strength

58 N/cm

63 N/cm

65 N/cm

Yield Strength

35.9 N/cm

43.4 N/cm

45.8 N/cm

Dielectric Breakdown

32.9 KV/mm

43.5 KV/mm

45.2 KV/mm

Cathodic Disbandment

0.24 in radius 6.4 mm

Volume Resistivity

2.5 x 1012 ohm.m

Water Vapor Transmission Rate

£ 0.1 gm/M2/24h

Water Absorption Rate

< 0.10%

Recommended Application Temperature

-50 to +600 C

Color

White

Available Roll Size (width x length)

2" to 32" X 50 to 800'
| | |
| --- | --- |
| | |
| Anti corrosion /waterproof aluminum foil tape | Anti corrosion viscoelastic tape |
| | |
| Anti corrosion Bitumen Tape | Anti corrosion polyethylene black inner tape |
We manufacture polyethylene coating by utilizing butyl based elastomeric adhesives, Polyethylene films and liquid adhesives for corrosion protection of steel pipes.
Our company provides corrosion protection with the inherent chemicals of polyethylene and butyl adhesive for water resistance and oxygen penetration. Oxygen and Water are prevented from reaching the metal substrate. They are the necessary and sufficient conditions for corrosion.
We manufacture conventional and special polyethylene, polypropylene and polymeric alloy and coating systems for pipe corrosion protection. We manufacture PE coating systems for the applications of new pipe construction, rehabilitation and reconditioning. Our products are ISO9001 approved and are in accordance with other good manufacturing and technical standards and norms in the energy and pipeline industry. Coating systems have a broad range of temperature and shearing resistant properties to meet the requirements of pipeline end-users.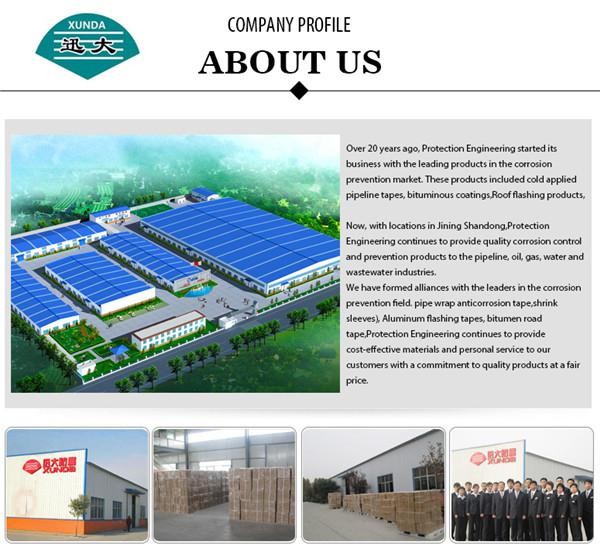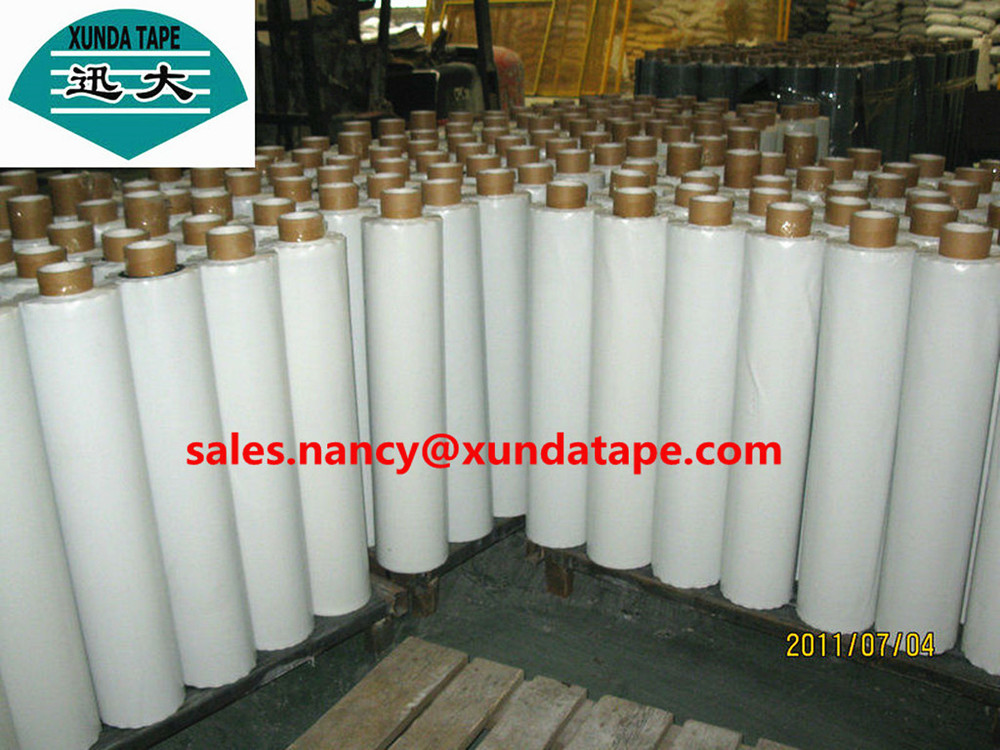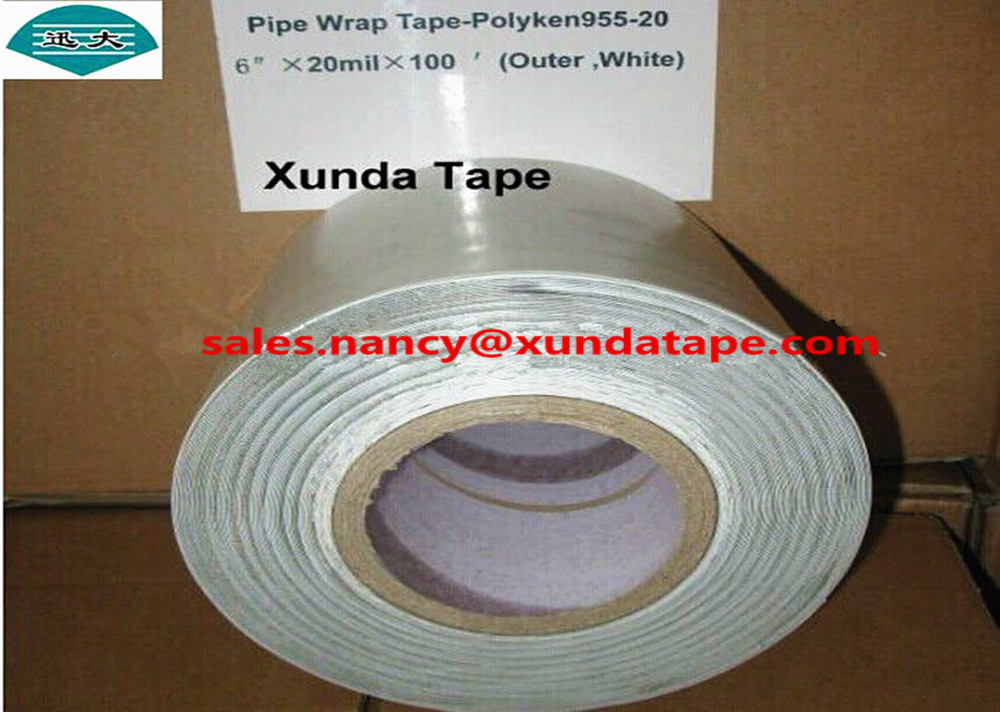 Packing :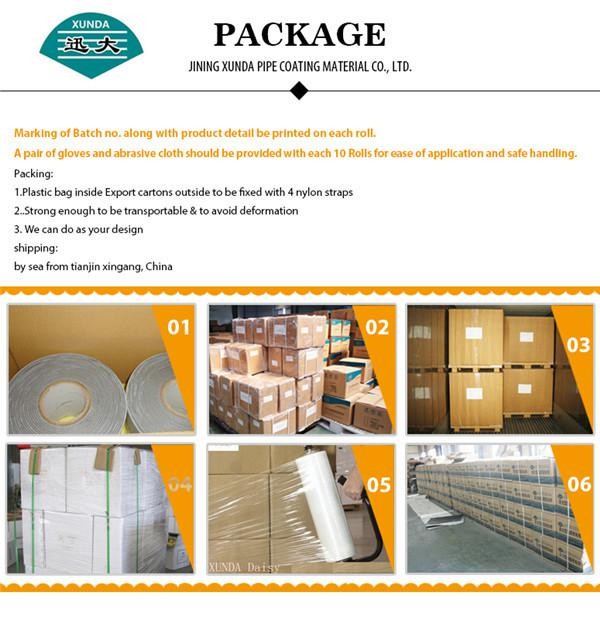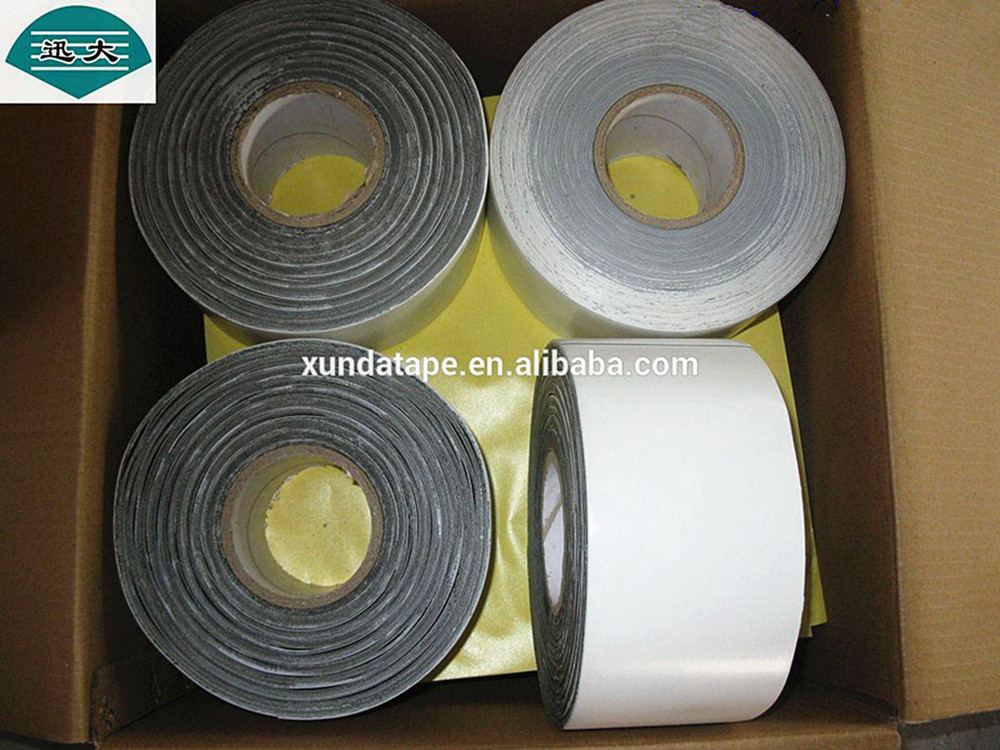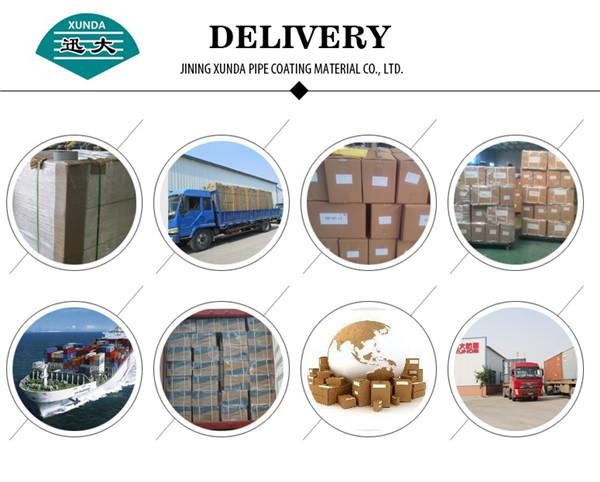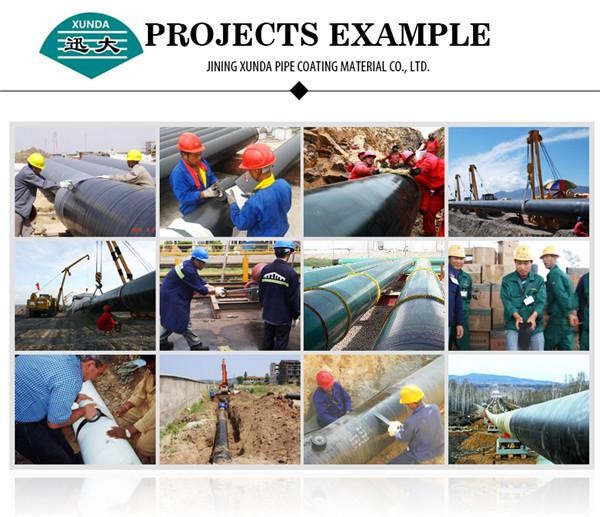 1) Steel pipe pretreatment
 1.1 Keeping the pipe external surface clean and dry.Remove the dust, oil, welding slag, burrs, grease and      dirt on pipe surface.
 1.2 Pipe surface prepared up-to a level of Sa 2 or 2 ½ or St 2/st by sand blasting. 
 1.3 After the precleaning operations, the pipe surface not smoothwhich may sharp the pipe coating should be        burnished , the abrasive dust attached on the pipe surface should also be cleaned clearly.
1.4 If flash rusting occurs, the surfaces must be re-cleaned by blasting as above. 
 2) Coating &Wrapping application
2.1 Coating &wrapping application consist of primer application, inner tape coating ,outer tape coating .
2.2 weather condition
2.2.1 When the wind&sand was strongly, when the sand and dust covered on the surface of pipe, primer ,
       tape etc., should not be brushing primer and wrapping the tape if there is no reliable 
         preventive measures.
2.2.2 When air humidity is greater than 80%,or when the pipe surface is wet from any precipitation, should not          be brushing primer and wrapping tape.
 3) Brushing primer
3.1 The brushing time should be control within 6 hours between the pipe surface treatment and brush primer      During brush primer, pipe surface should be free from damp and pollution. If the pipe surface
      rust return, should be re-pre-cleaned.
3.2 The primer should be mixed evenly in the container before brushing.
3.3 The primer should be applied uniformly, without any sags, floods, runs, drips, bare spot and over spray, 
      such as leakage brush, clot, streaming. The primer coat DFT shall not be less than 25-50micron (1-2mils)
3.4 After the primer dried, then wrapping the tape(It usually takes 3to 5 minutes.).
3.5 Consumption:
      machine applicationapprox. 0,1 litre/m²
      hand applicationapprox. 0,2 litre/m²
4) Wrap tape application
4.1 Wrap tape application consists of hand application and machine application.
4.2 The tape applied temperature must be above 5 degrees,the coating construction temperature shall be
       more than -5 degrees as better .
4.3 The tape shall be spirally applied ,minimum overlap shall not be less than 50%.
4.4 When a new roll of tape started ,the ends shall be located to ensure the continuity of wrap tape using the 
      same method of application.
4.5 Outer tape applied method is the same as above.
 5.Cutbacks
   Cutbacks shall be a minimum 6inches(150mm) from the ends of each pipe.The cutbacks may be tapered
  or straight edge for the total thickness of the coating.
 1.  What is the payment terms. 
       T/T (Telegraphic Transfer) ,  L/C at sight,Western Union
 2. What is the delivery time of the tape.
       Usually , 7 days after payment, but  it will cost more time when a large order  made.
 3. Whether the sample is free or not.
      The sample will be free with one patch or a small roll . It should paid when you ask for large               quantity samples.
 4.What is your qualification.
     We are the manufacturer of anticorrosion tape for 18 years. All our products are ISO,DVGW,              SGS,AWWA approved.we are the membership supplier of SINOPEC, CNOOC ,CNPC. Our products had exported to more than 80 countries.
 5. What is your after-sales service.
     1). Quality reponse
     2). Providing technical proposanl and feld application  training
     3).Product replacement if it is the quality problem.
Want to know more details, please contact us:
Contact :Nancy Song
Skype:nancysong7
whatsapp:008613791713064
         008618853777565
wechat(QQ):438391083 
Contact us if you need more details on 20mil Polyken Outer Wrapping Tape for Underground Pipeline. We are ready to answer your questions on packaging, logistics, certification or any other aspects about Polyken Outer Wrapping Tape、Outer Wrapping Tape for Underground Pipeline. If these products fail to match your need, please contact us and we would like to provide relevant information.
Product Categories : Butyl Rubber Pipe Coating > Pipe Mechanical Protection Tape