pvc gas pipe wrapping tape for the oil gas pipe valve flange anti corrosion
Product Description
pvc gas Pipe Wrapping Tape for the oil gas pipe valve flange anti corrosion
I .Description
pvc gas pipe wrapping tape is Cold applied tape coating system for corrosion protection of Oil, Gas, 
Petrochemical, and Waste Water underground or overhead pipelines. The outer-layer tape backing shall be compounded so that it will be resistance to outdoor weathering.
The pvc gas pipe wrapping tape shall be applied after the inner-layer tape by hand or with a wrapping machine.
II .Structure
The specification of the pvc gas pipe wrapping tape consists of two layers, Adhesive layer
and film backing
Adhesive: butyl rubber 
Outer layer: Special blend of stabilized polyethylene
III. Features:
Excellent adhesion to inner-layer tape and self
Resistant to UV
Can be applied over a wide temperature range 
Good conformability and consistent uniform thickness
Easily applied with no special equipment
Compatible with common pipe coatings
Excellent resistance to cathodic disbonding
Meets ASTM D 1000 ,EN 12068, AWWA C214,C209 and other international standard
Cold applied
IV. Physical Properties:
Type
T- 250
T-265
T-280

Total thickness (mm)

0.51

0.65

0.75

Film (mm)

0.33

0.41

0.52

Adhesive(mm)
0.18
0.24
0.23

Elongation 

≥400%   

Tensile Strength (N/cm)

 55

 60

 63

Dielectric Strength(KV)

32

 43

 45

Cathodic Disbondment

0.24 in radius 6.4 mm 

Volume Resistivity

 2.5×1012ohm.m  

Water Vapor Transmission Rate

   ≤0.1gm/m²/24h

Water Absorption Rate

   <0.05%

Application  Temperature 

   -10°c  to 60°c

Max Serve Temperature

   -40°c  to 80°c

Color

  White

Available Roll Size (width×length)

   2" to 36" ×50 to 900mm

Available Roll Length 

   10-100m
 Packaging : 
Commonly use carton:
Tape Thickness

Tape Size
Carton Size
SQM/CTN(m²)
Quantity/CTN
  0.51mm
 0.51mm*200mm*50m
 410cm*210cm*415cm
 40
 4
 0.51mm*150mm*50m
 420cm*420cm*320cm
 60
 8
 0.51mm*100mm*50m
 420cm*420cm*320cm
 60
 12
 0.51mm*75mm*50m
 420cm*420cm*320cm
 60
 16
 0.51mm*50mm*50m
 420cm*420cm*320cm
 60
 24
     0.75mm    
 0.75mm*200mm*50m
 410cm*210cm*415cm
 28
 4
 0.75mm*150mm*50m
 420cm*420cm*320cm
 42
 8
 0.75mm*100mm*50m
 420cm*420cm*320cm
 42
 12
 0.75mm*75mm*50m
 420cm*420cm*320cm
 42
 16
 0.75mm*50mm*50m
 420cm*420cm*320cm
 42
 24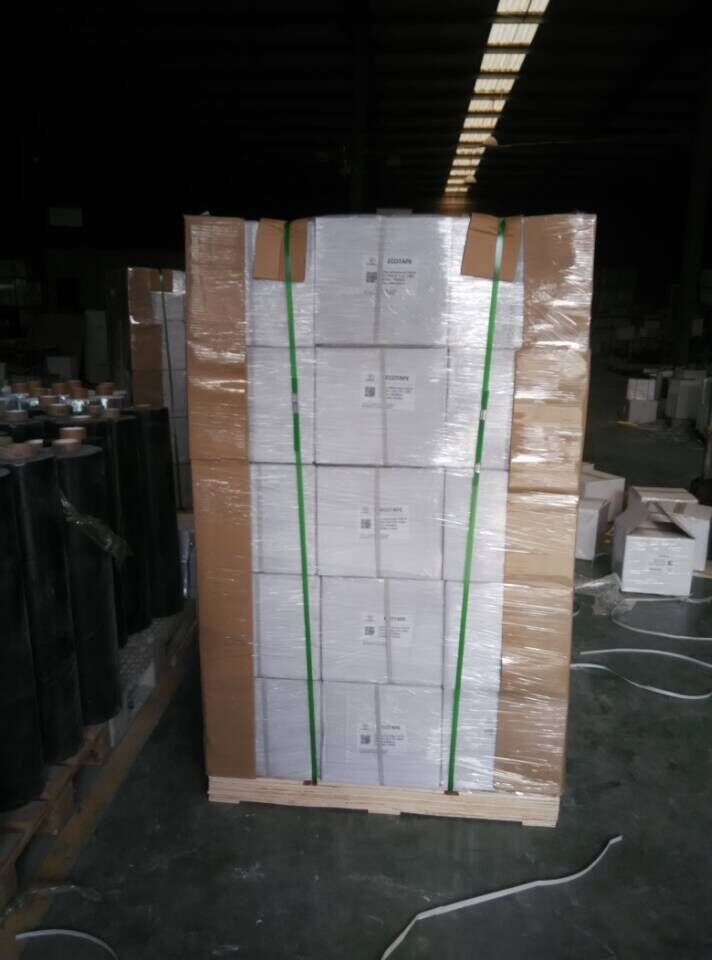 Shipping :  
Container Specification :
Container Specification

Length*Width*High(m)

Weight (Ton)

Volume (m²)

20GP

Inside:    5.898×2.352×2.385

Outside:  6.058×2.438×2.591

17.5

24-26

40GP

 Inside:    12.032×2.352×2.385

 Outside:  12.192×2.438×2.591

22

54

40HQ

                 Inside:    12.032×2.352×2.385

                 Outside:  12.192×2.438×2.591

22

68

45HQ

                 Inside :     13.556×2.352×2.698

                 Outside:    13.716×2.438×2.896

29

78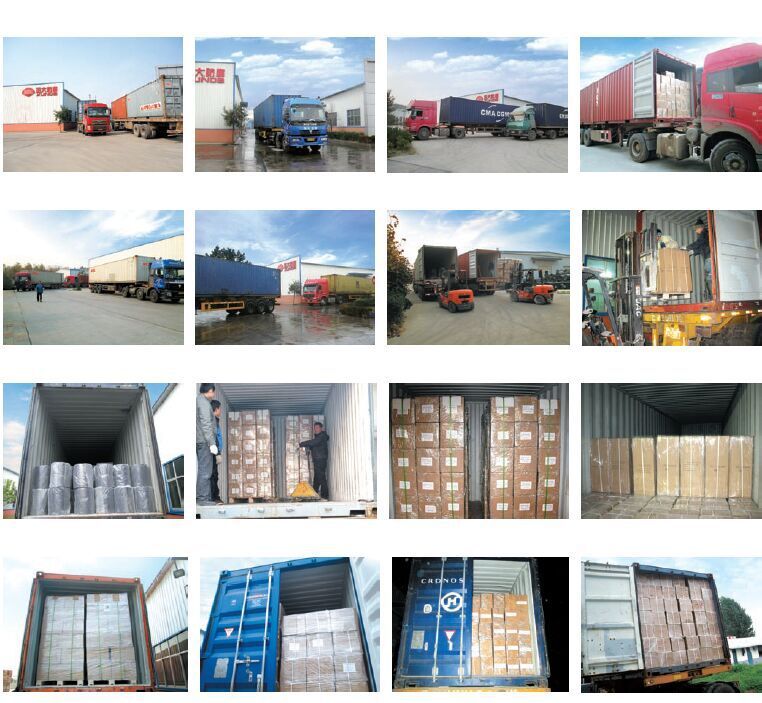 Jining Xunda Pipe Coating Materials Co.,Ltd , a joint -stock enterprise, possessing a gross investment RMB 42 million, registered capital of RMB 20 million,the manufacturer of anti-corrosion and waterproof coating materials for petrochemical,Oil,Gas and Water underground, underwater and overhead pipelines transport system, are widely used for electricity, chemicals, construction.
Our main anti-corrosion products : Polyethylene Self Adhesive Tape, Polyethylene Outer Protection Tape, Polyethylene Joint Repair Tape, Polyethylene Double Side Wrap Tape, Polypropylene Mesh Membrane Tape, Polypropylene Waterproof Tape, Aluminum Foil Waterproof Tape, Viscoelastic Body Adhesive Tape, Heat Shrinkable Tape, Heat Shrinkable Sleeve ,Petrolatum Tape etc.
We have got DVGW,AWWA,ASTM,SGS certificates and test report, also the sole factory in China passed DVGW, AWWA test. We were approved ISO 9001,ISO 14001 and OHSAS 18001. XUNDA tapes can meet ASTM D1000, DIN EN12068, 30672,AWWA C209, 214 , IGS and other international standards.
Our major market including 80 countries, widely distributed in South Asia,Southeast Asia, the Middle East, Africa, Central Asia, West Asia, Europe, Eastern Europe, South America, Australia.
Company overview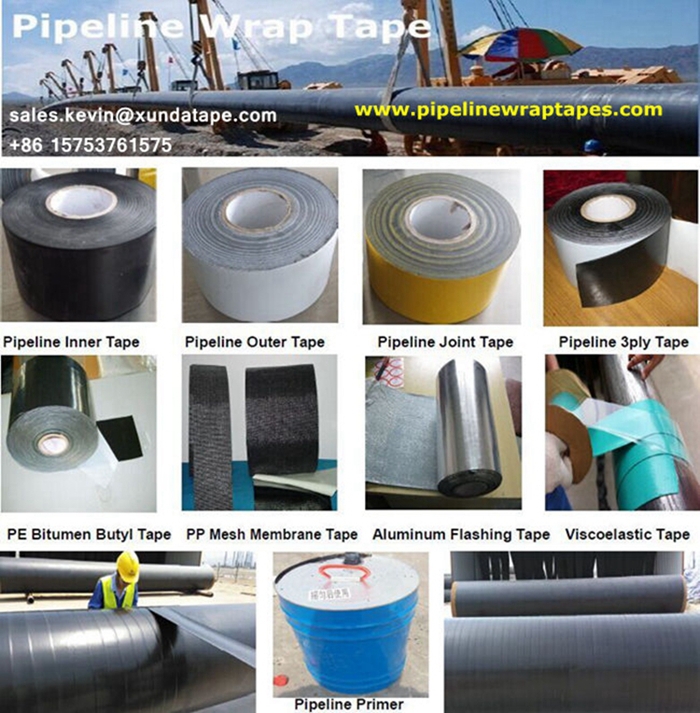 - OEM, OBM, ODM
- Oil, Gas and Water Transmission pipeline market
- Oil and Gas distribution and utility markets
- New pipeline construction markets
- Rehabilitation and Reconditioning market
- Offshore Industry
- Manufacture of conventional and specialty Polyethylene, Polypropylene and Polymeric Alloys and coating 
  systems for pipe corrosion protection.
- Manufactures PE coatings systems for applications for New Pipe Construction and Rehabilitation and
  Reconditioning
- Approved to ISO 9001 and to other good manufacturing and technical standards and norms governed within   the energy and pipeline industry.
1) Steel pipe pretreatment
 1.1 Keeping the pipe external surface clean and dry. Remove the dust, 
oil, welding slag, burrs, grease and dirt on pipe surface.
1.2 Pipe surface prepared up-to a level of Sa 2 or 2 ½ or St 2/st by sand blasting. 
1.3 After the pre-cleaning operations, the pipe surface not smooth
which may sharp the pipe coating should be burnished , the abrasive 
dust attached on the pipe surface should also be cleaned clearly.
1.4 If flash rusting occurs, the surfaces must be re-cleaned by blasting as above. 
2) Coating &Wrapping application
2.1 Coating &wrapping application consist of primer application, inner 
tape coating ,outer tape coating .
2.2 weather condition
2.2.1 When the wind&sand was strongly, when the sand and dust covered 
on the surface of pipe, primer ,tape etc., should not be brushing primer 
and wrapping the tape if there is no reliable preventive measures.
2.2.2 When air humidity is greater than 80%,or when the pipe surface is wet from any precipitation, should not be brushing primer and wrapping tape.
3) Brushing primer
3.1 The brushing time should be control within 6 hours between the pipe surface treatment and brush primer. During brush primer, pipe surface should be free from damp and pollution. If the pipe surface rust return, should be re-pre-cleaned.
3.2 The primer should be mixed evenly in the container before brushing.
3.3 The primer should be applied uniformly, without any sags, floods, runs, drips, bare spot and over spray, such as leakage brush, clot, streaming. The primer coat DFT shall not be less than 25-50micron (1-2mils)
3.4 After the primer dried, then wrapping the tape(It usually takes 3to 5 minutes.).
3.5 Consumption:
machine applicationapprox. 0,1 litre/m²
hand applicationapprox. 0,2 litre/m²
4) Wrap tape application
4.1 Wrap tape application consists of hand application and machine application.
4.2 The tape applied temperature must be above 5 degrees,the coating construction temperature shall be more than -5 degrees as better .
4.3 The tape shall be spirally applied ,minimum overlap shall not be less than 50%.
4.4 When a new roll of tape started ,the ends shall be located to ensure the continuity of wrap tape using the same method of application.
4.5 Outer tape applied method is the same as above.
5.Cutbacks
Cutbacks shall be a minimum 6inches(150mm) from the ends of each 
pipe.The cutbacks may be tapered or straight edge for the total thickness
of the coating.
Our Pipe Wrap Tape certificate:
1.  ISO 9001
2.  OHSAS 18001
3.  ISO 14001
4.  SGS
5.  DVGW
6.  EXVOA - AWWA C214
7.  SINOPEC : China Petro-Chemical Corporation Supplier
8.  CNPC: China National Petroleum Corporation Supplier
9.  CNOOC : China National Offshore Oil Corporation Supplier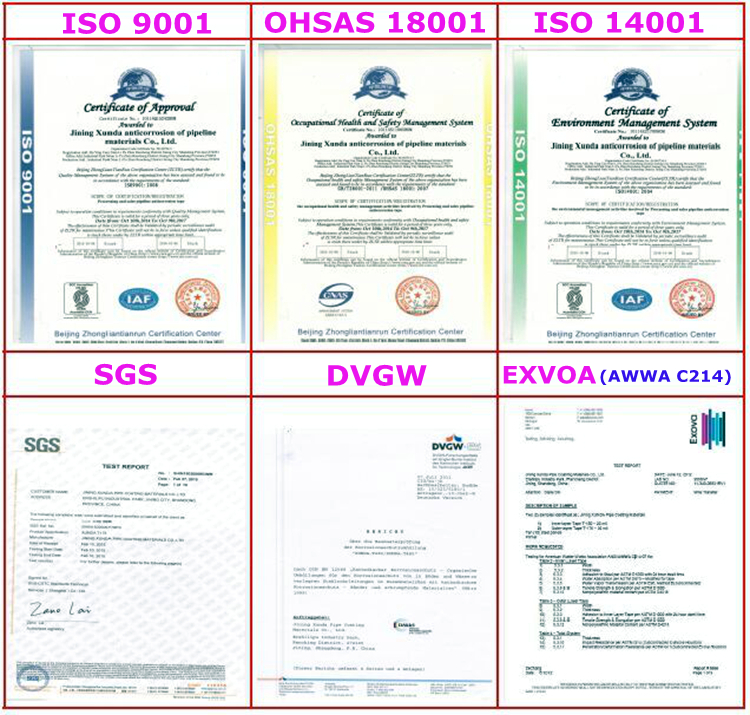 1.  What is the payment terms. 
       T/T (Telegraphic Transfer) ,  L/C at sight,Western Union
 2. What is the delivery time of the tape.
       Usually , 7 days after payment, but  it will cost more time when a large order  made.
 3. Whether the sample is free or not.
      The sample will be free with one patch or a small roll . It should paid when you ask for large quantity samples.
 4.What is your qualification.
     We are the manufacturer of anti-Corrosion Tape for 18 years. All our products are ISO,DVGW,  SGS,
     AWWA approved.we are the membership supplier of SINOPEC, CNOOC ,CNPC. Our products had
     exported to more than 80 countries.
 5. What is your after-sales service.
     1). Quality response
     2). Providing technical proposal and field application  training
     3).Product replacement if it is the quality problem.
 0086 15753761575

0086 15753761575

 

 

zxm_kevin

zhanxuemeng
Contact us if you need more details on Pvc Gas Pipe Wrapping Tape. We are ready to answer your questions on packaging, logistics, certification or any other aspects about Underground
Pipe Wrap
Tape、Rubber Adhesive Tape. If these products fail to match your need, please contact us and we would like to provide relevant information.
Product Categories : PVC Pipe Anti-Corrosion Tape